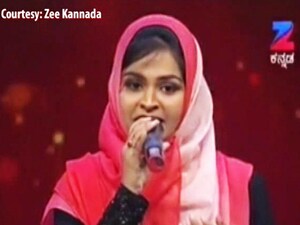 A Muslim woman from Karnataka is being trolled for the exact reason she was praised for on a reality television show: she sang a Hindu devotional song.
Administrators of a Facebook page with nearly 46,000 followers posted a picture of 22-year-old Suhana Sayeed along with a long message in Kannada, essentially condemning her for daring to sing in public.
Not only did they have a problem with her choice of song, they weren't happy that she sang in front of men.






The hate-filled post is being met with some opposition, however, with many coming forward to defend Ms Sayeed. (Video courtesy: Zee Kannada)




Watch the video Credit- NDTV
If you think the information in this news story might be interesting or useful to others, do Share it by hitting the Share, Like and Tweet buttons below the post